On a peaceful, sunny Tuesday morning, we're delighted to chat with our long-time clients, Saved By Robots, a maverick digital creative agency based in Glasgow. Of course, by meeting on Teleport, we're reminded that 'based' doesn't mean each team member works from the same location. In fact, Paul McVey (Creative Director & Co-Founder) greets us from his home set-up, while Mike Pawlukiewicz (Design Director & Co-Founder) sits down with a coffee in Paris.
Are we jealous of Mike right now? Definitely. But our call's crisp image could fool us into thinking we're steps from the Eiffel Tower. 🗼 Here's how Saved By Robots found Teleport and how the app transformed their work lives.
How are Robots born?
Saved By Robots was established in 2016 when Paul and Mike decided to combine their creative experience in the hospitality industry. "When I was studying English at university, I was working in bars," Paul begins. "By the time I'd finished my masters, I was running some venues in Glasgow and Edinburgh, and developing an interest in the launch, refurbishment and development side of the business."
He didn't realise it at the time, but this was a branding process in itself, and led him to creative and concept development roles within Scottish nightlife. It was here he began working with Mike, a Polish expat who travelled to Glasgow to study graphic design.
Mike recalls with a smile, "[I was] exploring lots of different forms of design and photography and just, you know, getting on with my crazy Glasgow uni life! While I was studying there, I worked at various hospitality venues, across bars, and restaurants as well. So, the love of hospitality was there — planted straight from the beginning. It was a natural move for me as well to get into this industry."
Mike co-founded Saved By Robots with Paul. Together, they collaborated on branding for bars, restaurants and event spaces big and small.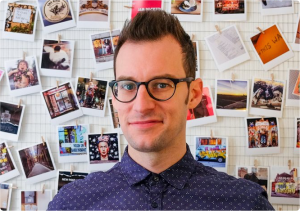 Remote-working Robots
So, who are Saved By Robots? Mike relays, "We specialise in design and branding for the hospitality, food and drink sectors. That encompasses concept development to naming and creating visual identity, tone of voice, building website signage, and helping create marketing campaigns."
The duo takes pride in tailoring their services to the specific project and client, working with their talented creative team. Mike continues, "We are based in Glasgow, and we also have teams in London and in Paris, so we've got a nice continental split."
It's no surprise the agency prioritises efficient communication. Meetings, briefings and feedback sessions rarely take place in the same room.
You see where we're heading, don't you? 😉 Early on, Saved By Robots had to find the best video conferencing software for their team. Not only did it have to offer high-quality video and audio, it had to be easy-to-use for staff and clients.
"We tried everything, I think. We tried Zoom. We tried Google Hangouts. We tried Blue Jeans," Mike lists. With Teleport, he explains "We just get on with it! And it was natural for everyone to start using it. It was a big, big, big, big move for us and a big thing for us as a company actually." Read: Teleport is a big deal. 🙌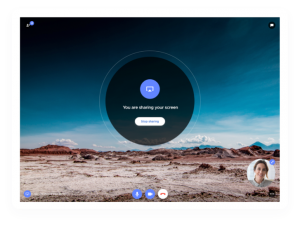 They had designs on Teleport
For Paul, their chosen video calling app needed to be user-friendly. He veered away from complicated onboarding processes that weren't suited to – as he put it – "the technical caveman, like myself."
Creative digital agencies have a variety of internal and external communication needs, in particular, the ability to chat and share on different devices. Mike was drawn to the simplicity of Teleport, and the fact anyone can join meetings with one link, using their mobiles, tablets, PCs and Macs.
"Creating a call quickly with many users is very simple. People can just join you in the browser, no matter what platform. They can just jump in, which is fantastic," the Design Director explains.
"A big part of the problem on other tools: people have so many issues with software. [They] need to install special plugins or download software." 
SBR's clients and team members also need to access files on-the-go, so the collaboration process runs as smoothly as possible.
"A lot of peer review work goes on internally," adds Paul. "Junior designers were able to show Mike their work and have it reviewed, and that process was able to go on all day even when Mike was in Paris or London or Edinburgh."
Connect from Anywhere
Not only is Saved By Robots' team distributed, the company's clients are located across the globe. To continue their cross-continental business development, they need a reliable video chat platform to establish a face-to-face connection with stakeholders. Paul also insists the value of Teleport's features when collaborating with partners:
"Our work dictates that we collaborate quite a lot with other agencies who are based elsewhere, often in London, or Manchester. It's been really useful for us to communicate with them, and share and review work."
Defining a brand's image is typically a lengthy process, and it can take many iterations to create the final look and feel that satisfies everyone. Saved By Robots' team uses Teleport to submit work, and offer and receive critiques. Designers and developers can even share their screens to discuss work live during video calls.
"I use it almost daily," Mike says of Teleport's ShareScreen. "Using screen sharing is super important. Otherwise it would be so time consuming to make screenshots, or draw on them. The presentation is super easy. You just jump in and show exactly [what you mean] – click here, click there, change this value, move these bits around. It's just perfect – you can't go wrong."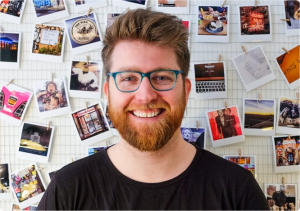 A Teleport triumph
We love a success story, especially when Teleport can play a part in it. 🙏 Speaking of how the app impacted SBR's day-to-day activities, Paul tells us, "I think the main outcome for us was increased and smoother communication."
Mike echoes this statement, knowing that he's only one click away from his team: "It really feels like we are working in the same place to be honest. It's very simple to connect with someone. And it saves so much time rather than, you know, trying to write an email or text even. It's a great, great, great result for us."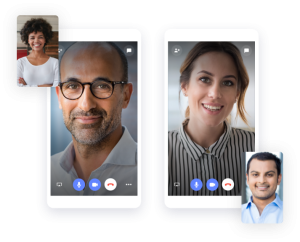 What say ye, Robots?
One of the most important benefits of video conferencing for creatives, is that it allows you to take your work Anywhere. Whether you keep an office or cafe-hop with your tablet, users gain more freedom in their work day.
Paul and Mike have taken advantage of this, and of course, enabled their own team to work from where they're comfortable.
"I think the important thing when you're running your own business is that you have to believe in the quality of work that you're doing," offers Paul. "Where you're doing that shouldn't matter as much as what you're actually producing. Also, you're going to allow your team members to have a better work/life balance and experience. It will bring a freshness and an energy to the business that hopefully your clients will be able to reap the reward of."
The time came and Team Teleport had to ask: Would Saved By Robots recommend us to other leading digital agencies? Please don't let this be the end of a beautiful friendship…
Mike is the first to answer, "We design so everything is visual and voice call, of course, it's absolutely non-visual. I think without this platform, it would be simply not possible to do what we're doing."
High praise. Come on, Paul, don't leave us on tenterhooks. "It's simple to use – the faster you can communicate and the more you can collaborate, the better your work is going to be. I recommend it on the back of that for sure. Two years and going strong, and still a really key part of the business." 
Here's to many more years of the Robots teleporting to work. 🤖
Find out how you can Teleport free for 30 days and take your team Anywhere. For the latest on the app, and follow us on Instagram!