We caught up with Neil Faulds, one of the directors at One Accounting, to talk about how Teleport video conferencing has transformed his team's working day. Neil has been with the business from its launch 13 years ago, so there's no-one better to tell us how their communications have evolved. 
Emails and phone calls just don't do the trick anymore. Think about the sales, turnover, profit, and tax documents you've reviewed over the last financial year. Now imagine someone trying to explain all these important figures to you over just a voice call… [Audible gasp]
Check out how One Accounting uses the Teleport app to streamline internal meetings and offer a more personal service to clients.
One for the money
Neil describes One Accounting as "an accountancy practice that supplies useful and high-level information to passionate business owners", so they can make better decisions about how they operate. Speaking of his role, he adds:
"I'm responsible for some of the client service to the bigger clients that we have, as well as the day-to-day management and running of the business." 
Needless to say, with such responsibilities, it was imperative that Neil find a video calling solution that worked for his team and clients. The firm was a fan of remote working from the get-go, but the right technology was difficult to find in 2007. Over the years, more products were introduced but still lacked the reliability One Accounting needed.
"Before using Teleport, we were using Skype," Neil begins. "It was often a bit glitchy. And it certainly wasn't as easy to use in terms of setting up group chats."
"What we were really looking for was something that was easy to use for the team, and didn't take too much maintenance time." Enter: Teleport 👋 
You can ac-count on us
As their distributed team grew, One Accounting had to ensure communication remained smooth and straightforward. About 2 years ago, the firm recruited its first team member based in Ireland. Not exactly an *easy* commute to their Edinburgh office! But, that speaks to how the right video conferencing and collaboration app can enable any business to look beyond the local talent pool and hire the best candidate for the role.
Neil explains how effortless it has been to keep in the loop with all team members using the Teleport app: "We've got remote workers and just being able to connect with them [is] so simple. It's a click and you're in."
One-click video conferencing is a perk all accountancy businesses can enjoy with Teleport. All you need to do is create your unique meeting room URL, share it with your invitees, and everyone can join in their browsers. No downloads, no installations, no fuss — and suited to any desktop or mobile device.
"It certainly cut down on a lot of internal email and it also made the response times between the team a bit quicker," offers Neil. "[It's] just easy to say 'hi' to people without having to pick up the phone and playing telephone tag over three or four calls!"
How One Accounting profited from Teleport
When asked about the Teleport features One Accounting finds most useful, Neil tells us, "We use the screen sharing feature quite heavily." Traditionally, the company holds a weekly planning meeting in-office. However, in instances where all team members are working remotely, ShareScreen has helped them stay on the same page. "The screen sharing allows us to pull up some of the documents that we'd be looking at normally. It's great!"
This key tool helps the accounting professionals review the same documents within calls with clients. Emphasising the simplicity of ShareScreen in navigating complex financial data, Neil says, "Rather than trying to point them [through] an Excel spreadsheet — go to such-and-such a tab, go to row A, in column 10 — there's none of that. You just point and click and we're both looking at the same thing!"
No exaggeration – you can literally share your screen in just. one. click.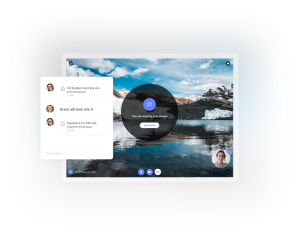 Clients and internal staff have responded positively to this new-found collaborative freedom. In-call chat makes it a breeze to share files and comment, without disrupting the conversation. And, being able to record your meeting means everyone can refer back to points raised.
Describing how Teleport has created a better flow of communication, internally and externally, Neil says, "People get back to you much quicker or [queries are] resolved there and then. I think just being able to see somebody always makes a difference as well."
The flexibility of the app means key players on accounts can attend regular online meetings, and this face-to-face connection enhances their customer service. Video conferencing also enables the firm to meet with clients more often, without either party having to weigh-up travel costs. So long, taxis, trains and private jets — Hello, reducing your carbon footprint. 🌏
Meetings aren't so taxing
Today, 50% of One Accounting's team works remotely. When asked if Neil would recommend other accountancy businesses set up Anywhere, he replied, "Give it a go because I think you'll be pleasantly surprised. If you've got the right tools in place, it actually becomes a simple process. These days, there's no reason why communication should drop. The tools are there."
"It's a much easier process than maybe you think it is, [and] in terms of your personal life, it can transform it! I just have so much more time. I don't have to get up so early. I don't have a commute to face every day!" 🙌 Now that's #relatablecontent if ever we've heard it.
With Teleport, you can join meetings from wherever suits you, and so can your clients and colleagues. One Accounting's team is grateful for the options, with Neil stating that some love the experience of working from home on a permanent basis. "They feel more productive. And I don't think they'll actually want to go full-time in office!"
Invest in Teleport
The time had come to bid Neil a farewell. Our last question, and we hoped he wouldn't leave us in suspense: Would he suggest using the Teleport app to other accountancy companies?
"The biggest reason I recommend Teleport is the ease of use, and the ability to bring multiple people into a meeting very simply," he begins. "And then to be able to share documents so that you're all looking at the same thing, in the same place at the same time. That's really quite powerful."
What better way to finish our interview? Cheers, Neil. Here's to many more tax years partnering together!
Learn more about the app's features and how you can Teleport FREE for 30 days.