The folks in HR are some of the hardest working members of any team. And, we're not just saying that because they know everything about us… 😳 Between recruiting candidates, onboarding and updating businesses about new policies, it's no wonder that efficient communication and time management are top priorities for them.
We sat down with Leigh, UK People Director at AnywhereWorks, to talk about the pros of video conferencing for HR. We admit, she's biased as to her *favourite* video calling app, but you can't fault her reasons for using video to transform your day-to-day HR processes.
1. You widen your talent pool
Having every team member work from the same building is becoming increasingly outdated. With technology like video conferencing making it easier for all of us to work Anywhere, should proximity from the office impact who you hire?
Short answer: No. Long answer: No, not at all.
"There are differences between hiring from a fixed location and from Anywhere," Leigh explains.
"Teleport allows you to hire based on talent rather than location, meaning you truly can get the right person for the role."
When businesses allow employees to work remotely, they can search for the best candidates, not just the nearest. Video calling allows HR teams to recruit globally and connect with a higher number of valuable applicants suited to each role.
2. Video interviews save everyone time and money
When you've sorted through a pile of CVs (Not dramatic enough? How about 'a mountain of CVs'? 'The Himalayas of CVs'?), your shortlisting is still far from over. There's only so much you can learn about a candidate from a carefully-curated Word doc. Video interview software allows you to score candidates beyond their application answers, quickly and easily.
When discussing how virtual interviews have become a staple, Leigh told us, "I've found that using Teleport has created a much quicker recruitment process and enables both parties to be much more flexible in interview availability."
Businesses can simplify the interview process by face-to-facing with the most impressive applicants online. Video interview platforms save you time on finding a place to meet and the applicant can join your call from wherever they choose.
"People generally feel more comfortable in an interview situation over Teleport, as they're in the comfort of their own home," says our People Director.
"Teleport allows you to interact with candidates in exactly the same way you would if hiring from your office location. However, candidates don't arrive flustered because they've been stuck in traffic or struggled to find a parking space."
Additionally, all new-hire decision-makers can attend the same online video interview from where they're based, making it easier to reach a consensus. With Teleport, you can easily record interviews to share and refer back to. There's no need to stretch out the interview process and keep the applicant on tenterhooks!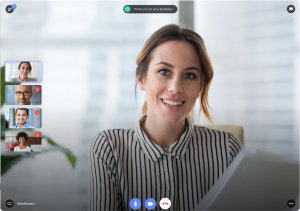 Scheduling is a breeze: just add a link to your calendar invite and the candidate can join your online interview in just one click. With a platform like Teleport, nobody needs to download any software and video interviews take place right in the browser. That means all interviewees need to think about is making a great first impression.
Dear potential hires, 
Check that your mic works… 👍
3. You can onboard new staff from Anywhere
When a business is growing, Human Resources inducts all your new team members. You want every new recruit to feel welcome but when other tasks are stacking up, it can be difficult to give everyone the attention they deserve. 
What's to do? Onboard your new team members using online video conferencing. With an app like Teleport, you can present slides and share files securely from Anywhere, and HR teams can induct up to 25 people on the same call. Not to mention, new team members get to meet each other right away online!
Leigh transitioned from working in an office to Anywhere, and said "Teleport helped me get to know my colleagues from across the globe. And, because you can't just have a chat in the office kitchen, everyone makes so much more effort to get to know each other. I actually found that during my first month here, I spoke to more people face-to-face than I ever would have in an office."
4. You make training globally accessible
Team Teleport makes it a priority to learn throughout the week. We track and share what we've studied using AdaptiveU. Online learning helps employees engage with their team and can increase job satisfaction by enabling them to receive new qualifications.
Whether your team works from home, an office or is distributed far and wide, training via video makes it straightforward to offer mandatory or optional courses. There's no need to limit learning to those that can reach a physical space. Offering or receiving HR training through video conferencing means no travel for trainers or students, and that all employees can participate in the same courses from Anywhere.
ShareScreen from Teleport enables HR personnel to lead teams through presentations over their call. And, you can record training sessions for anyone who might have missed out!
5. Team updates are efficient and inclusive
Human Resources teams are privy to a tonne of confidential information. We'd be surprised if there wasn't a book out there of wild, anonymous HR anecdotes. Maybe it'd be titled "H.R. You Kiddin' Me?" 🤦‍♂️
In all seriousness, this type of information has to be kept secure and on a need-to-know basis. Often, it can be difficult to get key stakeholders in the same room, especially if they travel. Video conferencing offers a secure way to get everyone on the same page at the same time. Teleport in particular allows you to lock your online meeting room, so only invitees can enter.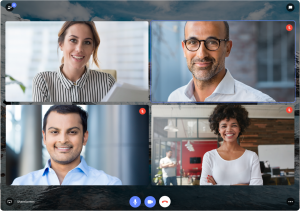 On a more general note, when HR needs to relay a policy update to the whole team, they can gather the troops online. Video chat can often be far more effective than sending updates through email, as your team has an opportunity to ask questions and discuss the points raised.
Speaking to the benefits of video conferencing for HR updates, Leigh told us, "It allows us to record important meetings or training sessions that can then be shared with others. It's also enabled us to screen share which, when trying to explain an intricate piece of information, is vital."
Keeping human resources, well, human!
As more businesses develop distributed teams, it's essential they invest in solutions that make it easy to connect with current and potential staff. HR is at the frontline of not only finding new talent, but ensuring you retain your current team.
Video conferencing can revitalise a range of HR processes by eliminating the need for parties to be in the same room for training, interviews and more.
When asked what she'd say to other HR leaders considering utilising video calls, Leigh closes "I would say 'Just do it!' It's a much easier transition than you would think. The traditional way of having meetings in a conference room does not need to be the future of HR. We can do everything we would in an office environment from Anywhere. It's not necessary to continue doing things the way they have always been done!"
Teleport is all about that maverick way of thinking. That's why we work with our users every day to offer new features to our video conferencing technology. Learn how to Teleport (free for 30 days!) and take your team Anywhere, and follow us on Instagram for the latest on the app!